Impulse Acceleration Program Closes with a Virtual Awards Ceremony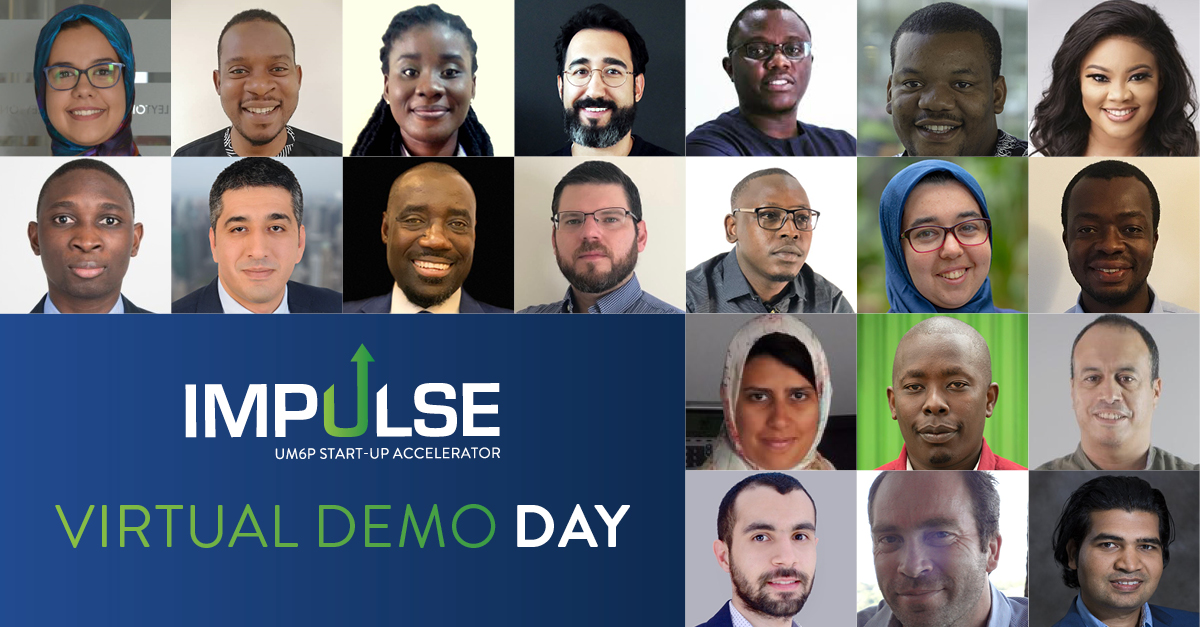 The Impulse accelerator virtual awards ceremony was held on September 9 2020. This event marked the end of an acceleration program that started in January 2020 and allowed the startups and the intrapreneurial initiatives of the cohort to pitch their solutions to potential investors and partners. An equity-free prize was also awarded to the 16 entrepreneurs who participated to the program to help them develop their businesses and overcome the impact of the Covid 19 pandemic.
Impulse is a startup acceleration program that was developed by Mohammed VI Polytechnic University in partnership with MassChallenge with the support of OCP Group and its subsidiary OCP Africa. The program was designed to fulfill three key objectives: to strengthen OCP Group's innovation capabilities in the fields of agritech, biotechnology, nanotechnology and mining technology; to contribute to the development of the African entrepreneurship and innovation ecosystems and to develop solutions to the challenges faced by the smallholder farmers in Africa.
The program's call for applications was closed on October 1, 2019, gathering over 350 applicants from over 40 countries. The 16 startups that were accepted in the program have been rigorously selected by a community of expert judges and represent the top 4.5% of applications. Four other intrapreneurial initiatives from OCP Group have also been integrated into the Impulse accelerator. The call for applications period has been supported by an intensive online communication effort with several webinars, and through events organized in Morocco and several sub-Saharan African countries. The African roadshow of the program was also an opportunity to build bridges with some of the most vibrant entrepreneurial ecosystems in the continent.
During the acceleration period that started in January 2020, the entrepreneurs and the intrapreneurs of the program had the opportunity to attend physical bootcamps in Morocco and Switzerland, as well as a virtual bootcamp with experts and companies belonging to the American network of MassChallenge. Mentoring sessions, training workshops, connections with corporates, investors, the coding school 1337 and UM6P fablab and living laboratories were organized during the different phases of the program. Some of the Impulse accelerator startups are also working on pilots with OCP, OCP Africa or UM6P.
In addition to the program's bootcamps, the mentoring and the matchmaking with potential investors and partners, the entrepreneurs of the program shared into an equity-free prize of $ 250,000. The breakdown of the award between the 16 startups is as follows:
Diamond Award winner ($ 50k):
Foodlocker (Nigeria): Foodlocker aggregates the outputs of smallholder farmers and FMCGs and sells to large buyers.
Platinum Awards winners ($ 20k):
Datafarm (Brazil): DataFarm is collecting geolocated farm's agronomic data to identify limiting agronomic factors and reduce the gap between the potential yield and the actual yield.

Lono (Côte d'Ivoire): LONO is a bioprocess engineering company, providing solutions for smallholder farmers and agro-industries to valorize their waste.

Safi Organics (Kenya): Safi Organics is using technology to decentralize fertilizer production and improve rural farmers' access to high-quality fertilizers.

Social Lender (Nigeria): Social Lender is a fintech solution that helps financial institutions offer financial services based on Social Reputation to underbanked populations.

Strayos (USA): Strayos is a 3D aerial intelligence platform designed for mining, construction and infrastructure operations.
Gold Awards winners ($ 10k):
AGROOP (Portugal): AGROOP is developing technological solutions for crop monitoring, resources management, risk prevention and optimization of agricultural production.

ColdHubs (Nigeria): ColdHubs is manufacturing 100% solar-powered cold-rooms, allowing merchants and farmers to store perishable goods 24 hours a day, 7 days a week.

eProd Solutions (Kenya): eProd Solutions is providing technology solutions for the agricultural sector allowing to estimate farmer produce food safety and nutritional value.

Esoko (Ghana): Esoko is providing a technology platform that connects rural Africans to innovative financial services, markets and information services.

Farmcrowdy (Nigeria): Farmcrowdy provides farmers with smart farming techniques, quality farm inputs, and access to the superior markets to earn a decent profit margin.

HydroBarley (Morocco): innovative, low-cost production of green feed through automated hydroponic systems.

Moldiag (Morocco): Moldiag is developing and producing innovative and cost-effective diagnostic tests for the detection and the quantification of several markers for human, animal and plant diseases.

SATGRIE (Mali): SATGRIE offers a sensor-based IOT system that collects and analyzes soil data in order to determine the nutritional needs of cultivated plants.

SAYeTECH (Ghana): SAYeTECH develops smart machines for African agriculture.

TROTRO Tractor (Ghana): TROTRO Tractor is an agricultural technology company that connects small farmers with tractors and other agricultural machinery services via a digital platform.
The content of the virtual Demo Day is available on the Impulse accelerator website: www.impulse.ma/en/demoday
وسوم