South South Cooperation: OCP signs new agreements with Ghana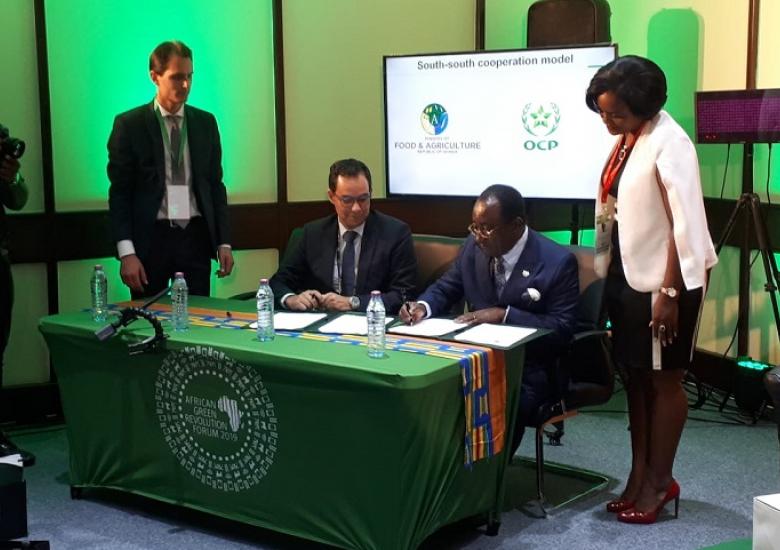 Ghana's Ministry of Food and Agriculture (MOFA) and OCP Group are pleased to announce the signing of 2 additional milestone agreements. The first one is a Cooperation Agreement regarding the farmer centric activities, soil mapping, innovation and digital farmer registration. The second one is a Term Sheet for the industrial project, aimed at strengthening key aspects of the development of Ghanaian agriculture and industry. The signing took place on the sidelines of the African Green Revolution Forum (AGRF), this Thursday, September 5th in Accra. 
This agreement follows on from the Memorandum of Understanding signed in September 2018, in which OCP Group and the Government of Ghana, represented by the MOFA, set out to improve the fertilizer value chain to provide "customized fertilizers at competitive prices to Ghanaian farmers."
In his speech during the signing, Dr. Owusu Afriyie Akoto, Minister of Food and Agriculture, welcomed the cooperation between its ministry and OCP Group since Ghana increased its fertilizers consumption from 8 kg/ha to 20 kg/ha in two years. He considered that this leap forward had a significant impact on small farmers.
Alongside this latest Cooperation Agreement, OCP has also launched its IMPULSE program, developed by the Mohammed VI Polytechnic University (UM6P), which aims at accelerating start-ups and active agri-entrepreneurs in the agricultural sector. In August 2019, Accra hosted the first stage of the IMPULSE program's African tour. OCP Group will also offer a wide range of services, notably the promotion of entrepreneurship through the recently launched IMPULSE program, focused on 4 strategic fields, including agriculture. 
For better efficiency, OCP Group has included extensive research from the UM6P University, including start-up aspects, JESA (OCP Group's engineering subsidiary dedicated to the African continent alongside OCP Africa), OCP Africa (its African subsidiary) and OCP foundation.
In addition, this partnership reinforces the construction project of a fertilizer production plant, announced last September, to be located in the western part of Ghana, in the Jomoro's district. The project is still in its conceptual phase and topographic studies are in progress. With the availability and processing of the natural resources of both countries, combining natural gas from Ghana and phosphate from Morocco, the industrial unit is expected to have a fertilizer's production capacity of ~1 million tons.
In tandem, the program will benefit from the setting up of digital solutions such as the MoFA farmer registration initiative, including technical and scientific innovation in collaboration with the TEAL, a JV between OCP and IBM. OCP initiatives are perfectly aligned with Ghana's Government strategy to boost the agricultural sector through its flagship program "Planting for Food and Job".
Ultimately, the joint initiatives of MoFA and OCP Group will help employability, provide access to quality fertilizers at a competitive price and significantly increase balanced fertilizer consumption by Ghanaian farmers. Currently, fertilizers' use averages 18 kg of nutrients per hectare, which is well below the 50 kg of nutrients per hectare Abuja target.
In addition to the Presidential "Planting for Food and Job" Program undertaken by the Government of Ghana, OCP Africa, the Group's African subsidiary, has since 2017 launched support programs for Ghanaian farmers through appropriate training, soil testing and offtake market opportunities. Some 85,000 farmers have benefited from the Agribooster and OCP School Lab programs since 2017. The new Cooperation Agreement between MOFA and OCP plans to reach more than 500,000 farmers over the next 3 years, with at least 30% of women.
Tags