OCP S.A. A PROCÉDÉ AVEC SUCCÈS À UNE NOUVELLE EMISSOCP S.A. SUCCESSFULLY ISSUED A NEW INTERNATIONAL BOND FOR 1.5 BILLION USD AS WELL AS A THE PARTIAL REDEMPTION OF THE 2024-25 BONDS
Download PDF - 907.57KB
Following the authorization of its Board of Directors as well as of the General Assembly dated O4 June 2021, OCP SA announced that it had successfully carried out a bond issue on the international markets for a total amount of 1.5 billion USD . This new issue is made up of two tranches with maturities of 10 and 30 years, with respective coupons of 3.750% and 5.125%.
OCP plans to use the funds raised for the financing of the second phase of its investment program as well as for the partial buyback of its existing international bonds maturing in 2024 and 2025, in order to optimize the maturity profile of its debt.
« The success of this international bond issue testifies to the quality of the OCP Group's signature with international investors. Furthermore, the objective of OCP's proactive liability management approach is to optimize our financial structure by taking advantage of market conditions' evolution. " noted Mostafa Terrab Chairman and CEO of OCP.
This transaction was a resounding success illustrated by the following indicators:
- It was more than 4.7 times oversubscribed for a total of approximately $ 7 billion for the two tranches, allowing a significant tightening of the rates for the two maturities.
- Had a negative new issue premium of -10 basis points for the two tranches and the lowest rates achieved by the Group on these maturities.
- It was the largest order book in Africa, across all sectors, this year.
- And was the joint largest 30y tranche by an EMEA chemicals company ever
The bonds are listed on EURONEXT Dublin and are rated (BB + / stable) by Fitch Ratings and (BB + / stable) by Standard & Poors. The co-lead banks mandated for the issuance and implementation of the liability management transaction are Barclay's, BNP Paribas and J.P. Morgan. OCP was advised on this transaction by Rothschild & Co.
The characteristics of the bond offering are as follows: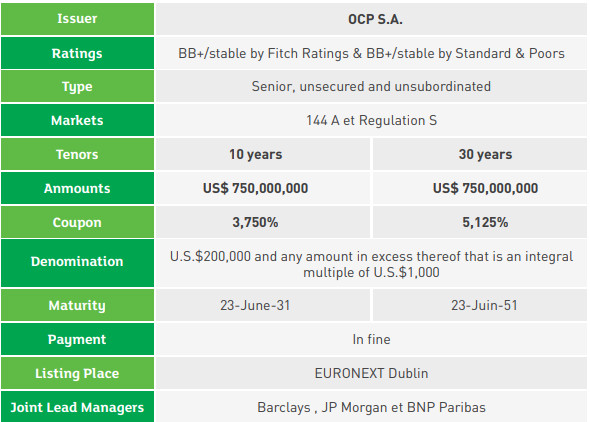 These bonds have been offered to qualified institutional buyers, fund managers, banks and private banks in various countries including Morocco, the United States, the United Kingdom, as well as elsewhere in Europe, the Middle East and Asia.
The Prospectus or Offering Memorandum is available on the EUNOEXT Dublin website, as well as the OCP Group's website at the following link: https://www.ocpgroup.ma/Capital-Market-Documentation
Tags